Birds of a Feather
---
Description:
This is a large (10'ht.) granite (Virginia black) sculpture I installed in July of 2007 in Greenville, Maine. It's a monument to Henry Thoreau and the Wabanaki Indian Nation. It was dedicated July 23rd exactly 150 years to the day after Thoreau and his Penobscot guide left Greenville by birch bark canoe on the last of his three trips through the Maine woods. The piece contains quotations from Thoreau, as well as some Indian quotations in the Penobscot language. Thoreau's book, The Maine Woods, is a chronicle of these trips. The birds and pillar are carved from one piece of granite and the entire piece weighs about 7 tons. This commission came as a result of my entering a national competition.
Date: 2007
Medium: Granite.
Location: Greenville, Maine. This piece is accesible to the public.
Directions: Greenville is at the foot of Moosehead Lake in North, central Maine. The sculpture is in the middle of this small town on its main street.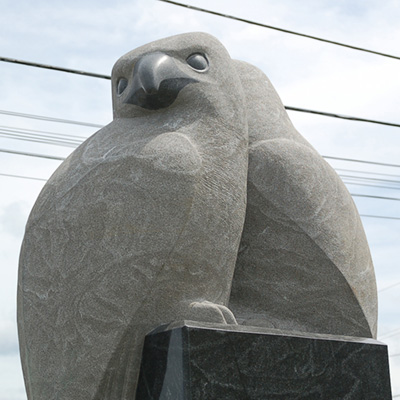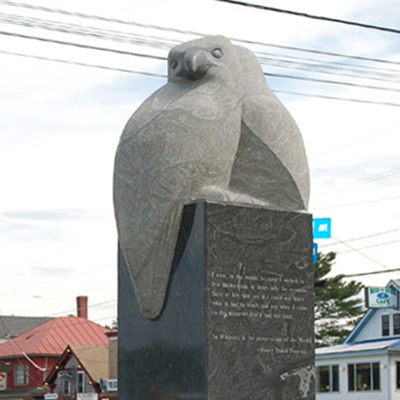 "If we listen to the songs of the water and the whispers of the wind, we will feel the heartbeat of Mother Earth, and all creation will continue to breathe."