It was a dream Sardonis simply couldn't shake. He envisioned it as the centerpiece of a proposed project for a museum in Anchorage, Alaska, but as things turned out, it would be in his own hometown of Randolph that the whale tails first came to life.
Sardonis was commissioned to create a grand entrance piece for a planned conference center on a patch of Randolph farmland overlooking Interstate 89. While construction on the center never commenced, Sardonis's sculpture of two massive whale tails, standing about 13 feet tall and carved from 36 tons of African black granite, was installed on the site in 1989.
Named Reverence, the sculpture of two whales diving into the Vermont landscape was meant to be a symbol of Earth's environmental fragility. Its grand scale, however, also made it a local landmark—and Randolph residents felt a deep sense of ownership of the whale tails, even after they were sold in 1999 and relocated to a 177-acre business park off I-89 in South Burlington.
So it was with considerable fanfare that in 2017 the Preservation Trust of Vermont and the Vermont Community Foundation purchased the original site of Reverence and commissioned Sardonis to make his dream a reality once more.
Installed in July 2019, the 16-foot sculpture is the tallest piece ever completed by Sardonis, whose other work can be seen at such places as the New England Aquarium, Yale University, and Dartmouth-Hitchcock Medical Center. But unlike "Reverence," this second version, called Whale Dance, is made of bronze. And in his view, that gives these whales a slight advantage over their South Burlington brethren.
"Bronze is strong, so I could make things bend and twist and lean a little more than I could with the stone," he said. "I could make the whales dance." Up Close: Vermont's Whale Tails Sculpture [ New England – From Editors @ Yankee ]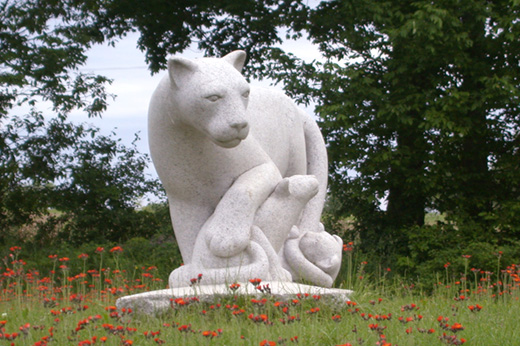 Biography
My work is inspired by natural forms – human, plant and animal…I also design and create gold jewelry, often using subjects related to some of my larger sculptures. [See Biography…]
The story of the making of Whale Dance at Exit 4 in Randolph Vermont, and why it is important to the Preservation Trust of Vermont. [see short documentary…]
"Hearts and Hands – A Tribute to Health Care Workers." [see work…]
Whale Dance in Randolph – Sardonis sculpture in Randolph once again. [see work…]
Big Frog was commissioned as part of the Art in State Buildings program through the Vermont Council on the Arts. [see work…]
Articles on Sculpture
WGBH – The Mysterious Bronze Dog Hiding In Plain Sight In Boston's Back Bay [more…]
Swimming Retriever Greets Visitors to NC State's Centennial Biomedical Campus [more…]
Natural inspiration brings polar bears to Andover [more…]
Samuel de Champlain Sculpture, Burlington [more…]
Jim Sardonis – Whimsy Writ Large [more…]
Seven Questions for Sculptor Jim Sardonis [more…]